Center for Development of Advanced Computing (C-DAC)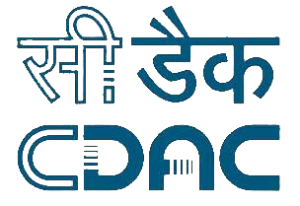 Established in March 1988, as a Scientific Society of the Ministry of Communications and Technology (formerly the Department of Electronics), Government of India, Centre for Development of Advanced Computing (C-DAC), is primarily an R&D institution involved in the design, development and deployment of advanced information technology (IT) products & solution. In a little over a decade since inception, C-DAC has developed a range of high performance parallel computers, known as the PARAM series of supercomputers. C­ DAC's expertise also extends to other related areas of Information Technology and includes pioneering work undertaken in the field of multilingual and multimedia technologies, education and training and developing IT based solutions in areas such as Financial Modeling, Network and Internet Security, Artificial Intelligence, Natural Language Processing, Telemedicine, Geomatics, Real Time Systems and e-Governance.
---
C-DAC has established the Advanced Computing Training School (ACTS) to meet the training needs of existing and prospective users of advanced computing and information technology. Training Centers like SunBeam has been established, where in hundreds of students and professionals are trained in higher value skills in frontline tools and methodologies technology. ACTS offers the Post Graduate Diploma in Advanced Computing (PG-DAC), Post Graduate Diploma in Mobile Computing (PG-DMC), Post Graduate Diploma in Embedded Systems & Design (PG-DESD), Post Graduate Diploma in Big Data Analytics (PG-DBDA) and Post Graduate Diploma in Advanced Software Development Methodologies (PG-DASDM) which focus on sharpening the computing skills, those who wish to venture out into the world of Advanced Computing. The course contents have been designed keeping in view the emerging trends in advanced computing as well as the contemporary and futuristic human resource requirements of the IT industry.